A record total of seven Elizabethtown College students were recently awarded the highly competitive Benjamin A. Gilman International Scholarship, giving them the opportunity to study abroad in any country of their choice within the next year.
Travel plans for Etown's seven Gilman Scholars: 
Academic Year: 2021-22

• Caden Robinson '23 – Spanish major studying in Oaxaca, Mexico
Fall 2021

• Michelle Calvo '22 – Graphic Design major studying in Florence, Italy
• Nicole Rodak '23 – International Business major studying  in Seoul, South Korea
Spring 2022

• Courtney Westman '22 – Occupational Therapy major studying in  Kimana, Rift Valley, Kenya
• Leaslie Alejandres '23 – International Business major studying in Osaka, Japan
• Zoe Goebel '23 – International Business major studying in Osaka, Japan
• Zoe Scheerer '23 – Psychology major studying in Edinburgh, Scotland
Since the Gilman Scholarship program began in 2001, Etown has seen 26 recipients selected, including this year's winners. Etown's previous Gilman recipients have studied abroad in 10 different countries: The Gambia, Germany, Greece, Iceland, India, Japan, Mexico, New Zealand, Spain, and the United Kingdom (England). This year's recipients represent the first students to study in Italy, Kenya, and South Korea, as well as Scotland in the United Kingdom.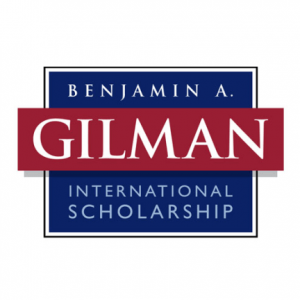 As a part of their mission to support all students who are interested in studying abroad during their time at Etown, the Study Abroad Office has made it a priority to promote this opportunity, incentivize applicants, and provide students with helpful writing tips for crafting strong essays. Gilman applicants also work with the Office of Prestigious Scholarships and Fellowships to strengthen their application. 
Recipients of this year's Scholarships are grateful for the support they received from both offices, including the College's Study Abroad Advisor Megan Bell, and Director of Special Programs & Prestigious Scholarships, Jean-Paul Benowitz.
"Megan Bell has been nothing short of incredible throughout my entire study abroad journey so far," said Westman. "From brainstorming programs to researching scholarships, Megan has continued to guide and support me throughout this process."
"Throughout the application writing process, Professor Benowitz was very kind and helpful in guiding me through the different stages of the application," said Alejandres. "We had weekly meetings where he offered suggestions and edits to my essays."
Bell is proud to say that during her tenure as the Study Abroad Advisor, more than 50 percent of the College's Gilman Scholarship applicants were awarded funding. 
"I know how hard these students work to tell their stories in the application's essays and how much this funding means to them," said Bell. "It's a true joy to be able to support them through this process!"
Etown's previous four Gilman Scholars were unable to study abroad due to travel restrictions brought on by the Covid-19 Pandemic. Emma Nalesnik plans on participating in a virtual international internship program for the fall 2021 semester. Ariel Hampton is pursuing a remote internship with a company in Japan this July. Jacob Schell is traveling to Osaka, Japan in spring 2022, while Laura Carr is studying abroad virtually through an internship that is based in Heredia, Costa Rica. 
The Benjamin A. Gilman International Scholarship
The U.S. Department of State's Benjamin A. Gilman International Scholarship Program enables students of limited financial means (i.e. Federal Pell Grant recipients) to study or intern abroad, providing them with skills critical to our national security and economic prosperity. The Institute of International Education has administered the program since its inception in 2001. You can learn more about the program here.
Applying for the Gilman Scholarship
Etown students interested in applying for the Gilman Scholarship should reach out to the Study Abroad Office for assistance in building a strong application. Along with this guidance, students should review the Gilman Scholarships' resources and ensure they allow adequate time to write and revise essays before the deadlines.