Elizabethtown College alumna Kyla Strickler '20 was recently awarded the 2021 Engineering for Change (E4C) Fellowship.
Strickler earned her bachelor's degree in engineering from Etown with concentrations in mechanical & environmental engineering and a minor in architectural studies. She is currently enrolled in the Drexel University College of Engineering in pursuit of a master's degree in peace engineering.
Beginning in early May, she will be working with OPUS 12, an organization in Berkeley, California, to help improve the design of CO2 electrolysis test platforms with CAD-driven refinements. The E4C Fellowship also includes opportunities to connect with other fellows and professionals from around the world, expand project management skills, and increase abilities to respond to current global challenges.
The fellowship is a distinctive workforce development program in engineering for global development, serving to activate and empower engineering students and early-career engineers worldwide to solve local and global challenges. The distinction is an exclusive one as only 50 of these fellowships are awarded globally from a record-setting pool of nearly 650 applicants representing 80 countries.
Strickler took advantage of opportunities to travel abroad during her undergraduate career at Etown, where she could apply her engineering knowledge while gaining experience in global development. A pair of semester projects during her sophomore and junior years led Strickler on a trip to The Gambia in West Africa for research, while she also traveled to Peru with Etown's Center for Community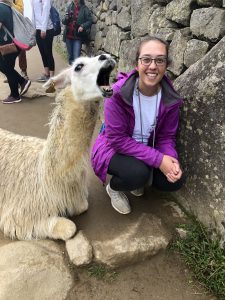 and Civic Engagement to help build houses for migrant families.
"Ever since I decided to go for engineering, I knew I wanted to use my degree to help others in underserved and underrepresented areas," said Strickler. "This trip (to The Gambia), and the project my team worked on, provided me with my first opportunity to do just that."
Strickler is appreciative of the continued support and encouragement from the Etown Engineering and Physics faculty, including Professor Kurt DeGoede, who introduced Strickler to E4C early into her undergraduate career, as well as her academic advisor, Dean of the School of Engineering, Math, and Computer Science, Sara Atwood.
"I have been extremely impressed with Kyla's sense of purpose and vocation," said DeGoede. "She has a vision for making a profound impact on our world and will excel in the Engineering for Change Fellowship program. I could not be prouder of all she is becoming, and the small role I've been able to play in helping her find purposeful life work."
"The Etown Engineering faculty understood how I wanted to apply my engineering degree in the future, and they were available to talk about potential opportunities and connections," said Strickler. "They were extremely helpful throughout the Drexel application process by writing letters of recommendation, checking in on my application status, and celebrating when I got accepted. They showed genuine interest (and still do) in my current endeavors."