When Kyle Cappucci '22 arrived at Elizabethtown College as a student, the Baltimore-native didn't know much about Marietta, Pa. – a small Lancaster County borough, located 15 minutes from campus on the east bank of the Susquehanna River. Now, local leaders joke that Cappucci's knowledge of Marietta's history could lead him to become mayor someday.
Since the spring of 2019, Cappucci has been working on a project for the Marietta Historic District in his Honor's Research Seminar Course, "Elizabethtown History: Campus and Community," taught by Director of Special Programs and Prestigious Scholarships & Fellowships Jean Paul Benowitz.
Cappucci has become immersed in the research and is planning on taking the course for the fourth time in the Spring of 2022. He has spent three summers collaborating with historic preservation and economic development stakeholders in Lancaster County and Marietta Borough through the Summer Scholarship, Creative Arts and Research Projects Program (SCARP).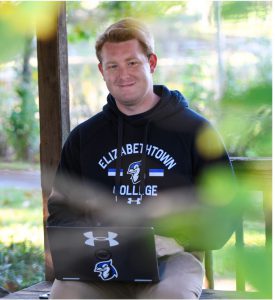 While researching for his own national Preservation Act Section 106 Review this semester, Cappucci discovered an unexpected coincidence. A former Etown student had been working on the same exact project Cappucci is working on now – albeit 50 years apart. The class was taught by Professor of History Scott T. Swank and the student was Carl Doan '73.
After more research, Cappucci discovered that Doan spent four years working on the project, just as he is now. Until he graduated from the College in 1973, Doan conducted Section 106 Reviews of Marietta, ten years before Marietta would be listed as a National Historic District. Doan is now retired from a career as a librarian, archivist, historian, and historic preservation specialist.
Thanks to Executive Director of College Engagement Mark Clapper and the College's Alumni Relations team, Cappucci's class was able to connect with Doan. Through Zoom, Doan visited the class and watched the Honors students' presentations. He even returned for Etown's annual Scholarship and Creative Arts Day (SCAD) in mid-April, where he spoke to the class about his own experiences after they finished presenting. Doan is planning to come to Marietta this summer to have Cappucci take him on a tour of the Historic District and discern ways he can be helpful with his Honors in the Discipline project.
Doan was beyond grateful to connect with Cappucci and the other students in the class.
"This is all very gratifying," said Doan. "I find it very rewarding that something I did almost 50 years ago is having an influence in Marietta and on young folks who are the age I was when I did my work there."
Benowitz was happily surprised by this discovery and is grateful that Cappucci and his other students have been able to learn from this experience in his course.
"How wonderful for all the students in this class to learn to know Carl Doan, for them to appreciate the significance of their civic engagement and community-based learning and to recognize they are standing on the shoulders of faculty mentors and students of the past, being inspired to do the same as they move forward," said Benowitz.
Cappucci is greatly appreciative of Benowitz's support in all of his endeavors since his first semester on campus.
"He has been such an amazing mentor to me throughout this project," he said. "I owe much of my success throughout this project to him and his expertise in local history and historic preservation. He will without a doubt be a lifelong mentor and close friend of mine for years and years to come!"
Prior to being involved in this project, Cappucci had no connection to the local area or the history. However, his continued research and Benowitz's guidance has allowed him to discover a passion for local history and historic preservation.
"I believe that this project and the Honors course itself, embodies the College's motto of 'Educate for Service,'" said Cappucci. "I have been fortunate to establish so many connections on the local and state levels in terms of historic preservation and economic development. Not only have I learned to love Elizabethtown as my 'home away from home,' but the entire local area, including Marietta, feels like home to me."
Funding for Cappucci's project was provided by The Andrew W. Mellon Foundation as part of the "Confronting Challenges with Confidence: Humanities for Our World Today" program.
Established in 2017 through a $300,000 humanities grant to Etown, the grant supported students from 2017-20 as they performed research in global studies and regional history and was designed to further increase student engagement with the humanities.