Elizabethtown College's John Talbott '22 was recently recognized for his outstanding academic achievement. The junior chemistry major was selected as a 2021 Barry Goldwater Scholar, while also receiving an ACS Division of Organic Chemistry Summer Undergraduate Research Fellowship (SURF).
2021 Barry Goldwater Scholar
The Barry Goldwater Scholarship and Excellence in Education Foundation was established by Congress in 1986 to serve as a living memorial to honor the lifetime work of Senator Barry Goldwater. The Scholarships are reserved for college sophomores and juniors who intend to pursue research careers in the natural sciences, mathematics, and engineering.
A total of 410 college students from across the United States were selected for scholarships from a pool of 1,256 applicants from 438 academic institutions.
"The Etown Department of Chemistry and Biochemistry encouraged me to begin research within my first year, allowing me to get a head start on developing crucial techniques through one-on-one training with professors," said Talbott. "This dedication and continuous support enabled me to become a better scientist and person."
ACS Summer Undergraduate Research Fellowship
Summer Undergraduate Research Fellowships provide funding for summer research opportunities for outstanding undergraduate organic chemistry students attending colleges and universities in the United States.
The award is given to students who have not only maintained an excellent academic record but have truly demonstrated potential as a research scientist while partaking in undergraduate studies.
"This is an enormous honor and a great stepping stone for John," said Professor of Chemistry James A. MacKay. "The award is given to only 10-15 students across the country each year with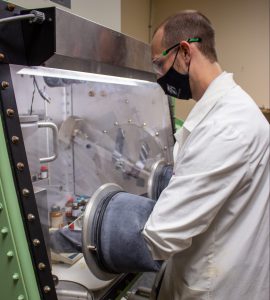 awardees often selected from large research universities. It is less common for students from smaller schools like ours to be selected."
This summer, Talbott will be working with Professor of Organic and Bioorganic Chemistry Eriks Rozners at Binghamton University in New York. Talbott will continue his work at Etown during the 2021-22 academic year as part of his senior honors research project. 
His research project, "Synthesis of Modified Amide-based Extended Heterocyclic Nucleobases for A-U Base Pair Recognition in Double-Stranded RNA," focuses on sequence selectively identifying double-stranded RNA. This area of research has become increasingly important with the onset of biological technology such as CRISPR-Cas9 and emerging pathogens such as the SARS-CoV-2 virus (COVID-19) which multiplies within cells through RNA replication.
"I fully believe I would not have been able to achieve these accomplishments at a different school," said Talbott. "The Office of Prestigious Scholarships and Fellowships along with the SCARP program are unique aspects of Elizabethtown College that encouraged and aided in my success."
The award also offers Talbott an opportunity to visit an industrial campus, partake in scientific talks, and present at a poster session where he will share his research results.